The animated Monster at desk is a Halloween decoration made in 1996. He wears a black coat and pants with boots. The desk has a map with a guide show how monster puts his head on and tools. His eyes flash and moves his arms up and down, raising and lowering his head as he says "Happy Halloween" and laughs.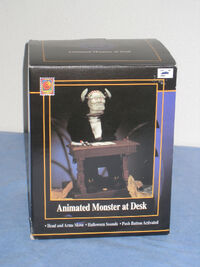 Ad blocker interference detected!
Wikia is a free-to-use site that makes money from advertising. We have a modified experience for viewers using ad blockers

Wikia is not accessible if you've made further modifications. Remove the custom ad blocker rule(s) and the page will load as expected.