The Baseball Cap with lighted antlers is a funny Christmas costume accessory made in 2001. The baseball cap is black with a red visor, and 2 realistic looking reindeer antlers sticking out of the top, with colored Christmas lights hanging on them. The cap reads "Ho Ho Ho" on the front and "Merry Xmas" on the back. When activated, the Christmas lights blink on and off until the button is pressed again.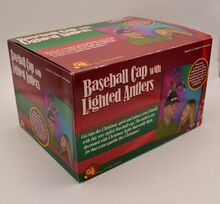 Ad blocker interference detected!
Wikia is a free-to-use site that makes money from advertising. We have a modified experience for viewers using ad blockers

Wikia is not accessible if you've made further modifications. Remove the custom ad blocker rule(s) and the page will load as expected.