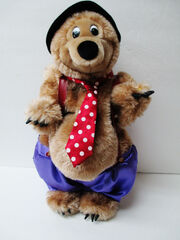 Big Band Big Belly Boogie Bear is a brown bear made in 2002 and is part of the
Really Wild Wildlife
 series. He wears a black hat, a red necktie with white dots on it and blue pants with red straps on them. He moves his belly up and down, wiggles his arms, taps his foot, twists side to side and moves his mouth as he sings "It don't mean a thing" and "Boogie woogie bugle boy" and talks.
Listen to his sound here: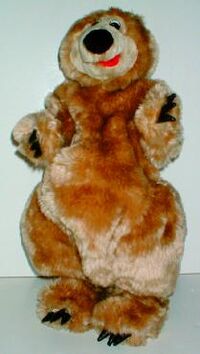 -This is one of the rarest Gemmy items in the series.
-There is another version of this item without the clothing.
-It is very fragile and breaks easily, due to poor designing.
Ad blocker interference detected!
Wikia is a free-to-use site that makes money from advertising. We have a modified experience for viewers using ad blockers

Wikia is not accessible if you've made further modifications. Remove the custom ad blocker rule(s) and the page will load as expected.