The Big Head Santa was made in 2001. Santa wears his outfit and stands on a tan circular base. He swings his hips and arms, turns his head and moves his mouth as he says many different phrases, followed by the song "When Santa Claus gets your letter". There is also a rare variant of this item that sings "Let's Twist Again".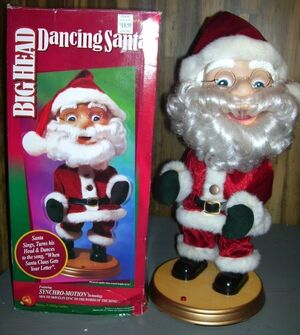 Ad blocker interference detected!
Wikia is a free-to-use site that makes money from advertising. We have a modified experience for viewers using ad blockers

Wikia is not accessible if you've made further modifications. Remove the custom ad blocker rule(s) and the page will load as expected.