The Bing Crosby playing piano is an animated Christmas decoration made in 2000. The scene features Bing Crosby sitting in front of a grand piano with a Christmas tree, a mantle with fireplace, and a set of fireplace tools beside the fireplace. The fire lights up and Bing turns his head and moves his arms up and down while he sings the original Bing Crosby recording of "White Christmas". This item is featured in the Gemmy Industries Toy Fair 2000 video and can be seen in action at the 19:40 mark of the video.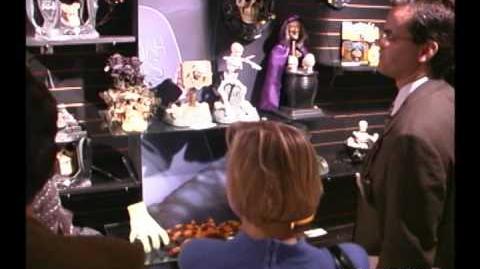 -This item is based on the scene from the 1942 movie "Holiday Inn" where Bing plays the piano and sings "White Christmas" with Martha Mears, which can be seen here.
IF YOU HAVE ANY IMAGES OF THIS PRODUCT, AND/OR IT'S ORIGINAL BOX, PLEASE ADD IT TO THIS PAGE.
Ad blocker interference detected!
Wikia is a free-to-use site that makes money from advertising. We have a modified experience for viewers using ad blockers

Wikia is not accessible if you've made further modifications. Remove the custom ad blocker rule(s) and the page will load as expected.