The animated birdhouses are animated decorations made in 2000. Each one features a different bird inside and each birdhouse has a different design. When activated, the bird peeks out of the hole and moves is beak while singing a song, or making authentic bird sounds.
Animated Birdhouses list
Edit
Double Birdhouse with Robins-"I'd like to teach the world to sing" and "Mockingbird"
Woodpecker and Goldfinch -"Knock on Wood"
Cardinal-"Sing" and "Why Do Fools Fall In Love"
Holiday Cardinal-"It's Beginning to Look a Lot Like Christmas"
Holiday Cardinal Duet-"Here Comes Santa Claus" and "Holly Jolly Christmas"
Blue Bird-''Zip a dee do dah''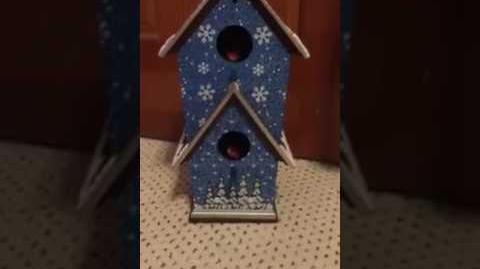 These are actually very similar to the original singing birds which also come from the same series as these ones do, called "Living Garden".