The animated birdhouses are animated decorations made in 2000. Each one features a different bird inside and each birdhouse has a different design. When activated, the bird peeks out of the hole and moves is beak while singing a song, or making authentic bird sounds.
Animated Birdhouses list
Edit
Double Birdhouse with Robins-"I'd like to teach the world to sing" and "Mockingbird"
Woodpecker and Goldfinch -"Knock on Wood"
Cardinal-"Sing" and "Why Do Fools Fall In Love"
Holiday Cardinal-"It's Beginning to Look a Lot Like Christmas"
Holiday Cardinal Duet-"Here Comes Santa Claus" and "Holly Jolly Christmas"
Blue Bird-''Zip a dee do dah''
These are actually very similar to the original singing birds which also come from the same series as these ones do, called "Living Garden".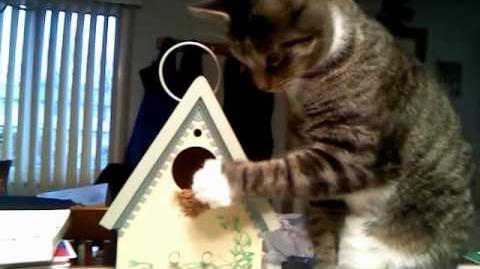 Ad blocker interference detected!
Wikia is a free-to-use site that makes money from advertising. We have a modified experience for viewers using ad blockers

Wikia is not accessible if you've made further modifications. Remove the custom ad blocker rule(s) and the page will load as expected.