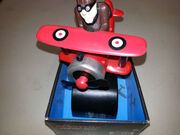 The Blasters is a gemmy series. The series was discontinued in 2007.
List (So Far)
Edit
Blaster Pilots
Yellow American (RARE) Rowdyruffboy120 Has!
Red Baron (common)
Office Commando (common)
Blue Version Unknown Name? (RARE) DJSummertime Has!
It is unknown if there are more in the series besides the office and Plane one.
Ad blocker interference detected!
Wikia is a free-to-use site that makes money from advertising. We have a modified experience for viewers using ad blockers

Wikia is not accessible if you've made further modifications. Remove the custom ad blocker rule(s) and the page will load as expected.