The Booty Shaker Fisherman is an animated figure made in 2007. The fisherman wears a light brown hat, a black fisherman outfit with yellow vest, black slacks, and boots. He holds a fishing pole in his right hand, and a blue fish in his left hand. He dances, spins around and shakes his booty while the song "Born to boogie" and says 6 different phrases.
-"I hooked a big one! See? Sure looks like a keeper!"
-"I'd rather be fishin' or dancin' if they ain't bitin'!"
-"Shake it till the fish come home! Catch and release? Okay, catch and release, baby!"
-"Catch and release? Okay, catch and release, baby!"
-"Check out my bait! It reels 'em in every time!"
-"Hooka Chaka Hooka Chaka! This is my caught a whooper dance!"
-This character also has a Dashboard Driver replica that says more fishing related comments.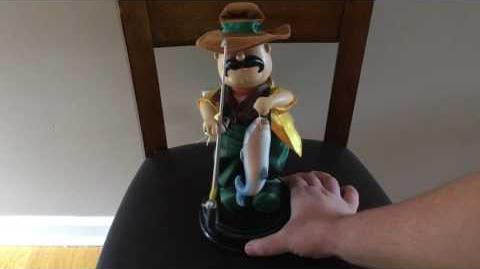 Ad blocker interference detected!
Wikia is a free-to-use site that makes money from advertising. We have a modified experience for viewers using ad blockers

Wikia is not accessible if you've made further modifications. Remove the custom ad blocker rule(s) and the page will load as expected.