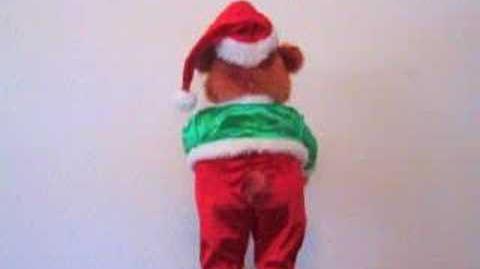 The Booty Shakers are assorted animated dancing figures made in 2005. Each one is dressed differently and stands on a circular pedistal. When activated, the character dances and the top plate of the plate spins around as the charcater shakes its butt in a circular motion to a popular song
-These items were remade in a way in 2015 and were named the Animated Dancers, as they're very similar, minus the spinning base.
French vesions of the smaller santa and the smaller snowman red cloths exsist
these items were remade in 2010
List of Booty Shakers
Edit
Santa (Realistic version)-phrases (no song.)
Cowboy Santa (I like to Move it)
Santa- "Shake Your Groove Thing" and many phrases
Santa-"Get Ready For This"
Snowman (2010 model)- "Baby Got Back" & "Jingle Bells"
Homer as santa-"Jingle Bells" and "Deck The Halls" and also says phrases
Reindeer-"Shake Your Booty"
Reindeer 2- "Gonna Make You Sweat"
Gorilla- "Boom Boom Boom"
Snowman-"Shake Your Groove Thing"
Snowman-"I've Got The Power" (red and blue versions)
Christmas bear-"Shake Your Booty"
Homer (non Christmas version)- Shake Your Booty
Frankenstein's Monster-"Get Ready For This"
Skeleton- "Livin La Vida Loca"