The butterfly collection is a series of animatronic home decor made in 2010. It features a robotic, yet realistic looking butterfly in a glass jar with the Gemmy logo and butterfly on one side and the words "Butterfly collection" on the other. When the lid of the jar is tapped, the butterfly moves around inside the jar and flutters its wings, just like a real butterfly.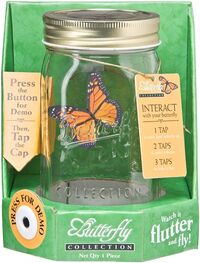 Ad blocker interference detected!
Wikia is a free-to-use site that makes money from advertising. We have a modified experience for viewers using ad blockers

Wikia is not accessible if you've made further modifications. Remove the custom ad blocker rule(s) and the page will load as expected.