The animated Christmas Porky Pig was made in 2002 and is based on the Looney Tunes character "Porky Pig". Porky is dressed in a Santa Claus outfit and he holds a microphone in his right hand. He turns his head and moves his head and arm while singing "Blue Christmas" and also says a few different phrases.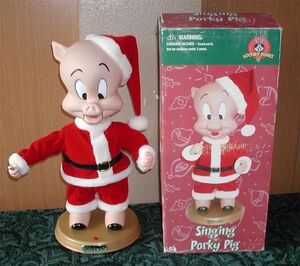 Trivia
-This item has the same mechanism as the Dean Martin figure, and the same Santa suit as the Christmas Bing Crosby figure, both from the Pop culture series.
Ad blocker interference detected!
Wikia is a free-to-use site that makes money from advertising. We have a modified experience for viewers using ad blockers

Wikia is not accessible if you've made further modifications. Remove the custom ad blocker rule(s) and the page will load as expected.