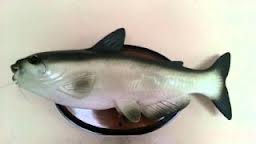 Cool Catfish is an animated singing fish plaque made in 2000. He is a channel catfish mounted to an oval shaped plaque made of realistic looking plastic wood with a black line surrounding it. He moves his head, tail, and mouth as he sings "Bad to the Bone" and says 20 hysterical phrases.
All 20 phrases
Edit
And you think you got it bad!
Pork. The other white meat!
How about a game of Go Fish?
C`mon buddy...can you help me get out of here?
(Burp) Excuse me! I must`ve eaten a bad worm!
Don`t look at me that way!
Something smells fishy around here!
You can tune a piano,but you can`t tuna fish!
What`s the matter...you`ve never seen a talking fish before?
I`m just here for the Halibut!
Hey! Drop me a line sometime!
I`m busting outta here tonight...ya with me?
(Barking sounds) What were you expecting, a meow?
Is this my fifteen minutes of fame?
So you never heard of Catch & Release?
Like Bubba Catfish, Cool Catfish has hillbilly teeth in his mouth.
There is a rapping version that sings "I'm a Real Cool Cat".
Cool Catfish, Singing Bony Soul, and Big Mouth Billy Bones are the only fish that sing "Bad To the Bone".
One of the phrases Cool Catfish says resembles from the joke of the difference of a piano and a fish.
There are actually 6 versions of Cool Catfish. One with a nameplate, one without a nameplate, the rapping version, which also doesn't have a nameplate, the talking Bubba Catfish, Bass Pro Shops exclusive Bubba Catfish, and the Bubba Catfish that sings "Rock the Boat" and "Do Wa Diddy Diddy".