The dancing Homer Simpson is made in 2002, and is based on the cartoon character "Homer Simpson". Homer swings his hips back and forth, turns his head and moves his mouth as he sings "Rapper's delight" and "Shake your booty", and says many of his phrases from the TV show.
-There is a Large version of this item that has a bigger base
-There is also a 5ft version of this that comes with a chef costume
-There are also 2 mini versions with themes for the songs he sings and says the first 6 phrases this one says
-This item can actually also be set to motion activation mode so it can activate by moving in front of the figure
-This item was remade in 2004 in the exact same way, but with a few modifications to it's movements.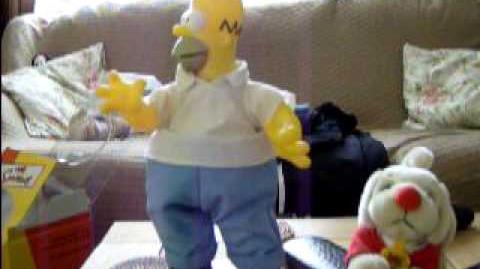 Ad blocker interference detected!
Wikia is a free-to-use site that makes money from advertising. We have a modified experience for viewers using ad blockers

Wikia is not accessible if you've made further modifications. Remove the custom ad blocker rule(s) and the page will load as expected.