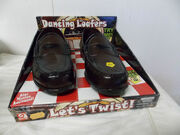 There were loafers that played Let's Twist Again and go-go boots that played These Boots Were Made for Walking. Each one of them spun and tapped when you pushed the left toe. They were made in 2003.
These collectable items are very rare, but it's unknown if there were more in the series.
The Go-Go boots have the same recording as the These Boots Are Made For Walking Turtle.
The dancing go-go boots were sold at Rite-Aid and Spencer Gifts and were dubbed "The Original Dancing Shoes."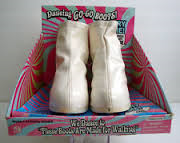 Ad blocker interference detected!
Wikia is a free-to-use site that makes money from advertising. We have a modified experience for viewers using ad blockers

Wikia is not accessible if you've made further modifications. Remove the custom ad blocker rule(s) and the page will load as expected.