The fat rat is an animated rubber figure made in 2004-2005. He gives the realistic appearance of a real rat. He moves his head back and forth as he moans and talks. He says 3 phrases.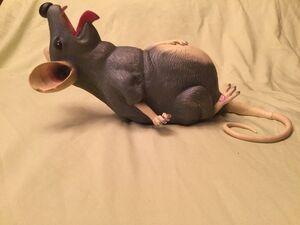 -Ugh. I probably shouldn't have had that last wafers thin after dinner mint
-Ugh. Go on and help yourself to the food. I took a bite of everything and it's all delicious (Burp)
-I know i ate too much. But I'd do it again. I swear i'd do it again! Ha Ha Ha Ha Ha Ha!
Ad blocker interference detected!
Wikia is a free-to-use site that makes money from advertising. We have a modified experience for viewers using ad blockers

Wikia is not accessible if you've made further modifications. Remove the custom ad blocker rule(s) and the page will load as expected.