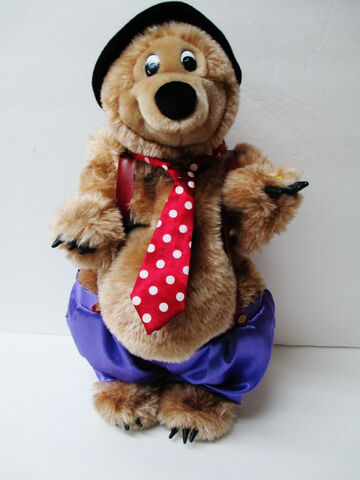 Description
Edit
This is an EXTREMELY RARE singing and dancing bear. He wears overalls, has a red tie with white dots and a hat. He sings 2 song which are "Boogie woogie bugel boy" and "It don't mean a thing (If it ain't got that swing)". He also says afew phrases like:
-Swinging to and fro. Got to have that swing! Ha Ha Ha Ha!
-That's wild! Really really wild! Yes it is!
-Crazy!
and he moves his arms up and down, wiggles his belly, taps his left foot, twists side to side and moves his mouth to the words of the song
It has been predicted that this could be in the really wild wildlife series but so far it's unknown
There is also a flower pot that was made in 1998 that sings "Boogie woogie bugel boy"
There is a Russian version that looks and sounds the same but has no clothes
File history
Click on a date/time to view the file as it appeared at that time.
Metadata
Ad blocker interference detected!
Wikia is a free-to-use site that makes money from advertising. We have a modified experience for viewers using ad blockers

Wikia is not accessible if you've made further modifications. Remove the custom ad blocker rule(s) and the page will load as expected.