The Fortune Telling Witch is an animated Halloween decoration made in 1994. The witch wears a black dress and hat. The tablecloth is purple with yellow star and moon designs on it, and the crystal ball sits on the table. When activated, the crystal ball lights up and flickers as the witch moves her arms up and down, laughs, and says "Happy Halloween" and "Tell me, tell me crystal ball. Who's the scariest of them all?" as her eyes light up.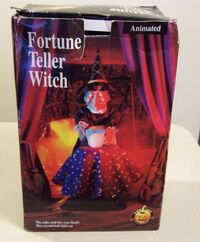 There is also a rare large electric version of this item.
There is another rare variant with a different outfit and face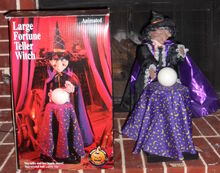 Ad blocker interference detected!
Wikia is a free-to-use site that makes money from advertising. We have a modified experience for viewers using ad blockers

Wikia is not accessible if you've made further modifications. Remove the custom ad blocker rule(s) and the page will load as expected.