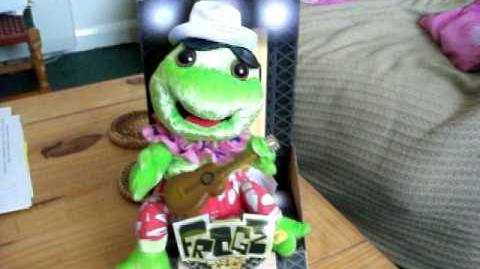 Rock It, Rap It, Ribbit!
Frogz is a series of animated plush singing frogs made from 2005 to 2008.
The Frogz series is divided into several categories:
Party
Hip Hop
80's
90's
Country
Over The Hill
Valentines
Halloween
Christmas
Graduation
Military
Poker
Frogz in a standing position were made by Funtime, as well as a few made by Gemmy for Valentine's Day. Funtime also made a penguin version of Frogz called Pengz, which only has one known version released. Gemmy also made a special Frog for Rainforest Cafe restaurants.
List of Frogz (By Type, Numbered)
Edit
Graduation
Edit
Future's So Bright
Friends Forever
Get This Party Started
Valentines
Edit
Jump Around (Green and Pink)
Money Maker
Yeah (Black and Green)
Crazy In Love (Red or Pink Dress)
Check On It
Umbrella
In Da Club
Standing Purple Yeah
In Da Club (Purple and Green)
Jump
Yeah (Red and Green)
Jump Around (Blue and Green)
Rappers Delight (Green And Purple)
Number One Spot (Green and Black)
Ridin' Dirty
White and Nerdy
Crazy in Love
Just a Lil' Bit (Green and Yellow)
Candy Shop (Blue and Green)
U Can't Touch This (Green and Blue)
I Like to Move It (Green and Orange)
No Scrubs (Red and Green)
Push It (Pink and Green)
Pon De Replay (Green and Blue)
Ride Wit Me
Cha Cha Slide
Bethca Can't Do It Like Me
This Is Why I'm Hot (Purple and Green)
SOS
Money Maker
Standing in Da Club
Standing Crazy in Love
Standing Ride wit me
Whip It (Blue and Green)
My Sharona (Orange and Green)
We're Not Gonna Take It (Green and Yellow)
Maniac
I Can't Drive 55
Standing Jump
Unbelievable
Good Vibrations (Green and Yellow)
Baby One More Time
Livin La Vida Loca (Blue and Green)
The Look
Wannabe (Green and Yellow)
Hard To Handle
MmmBop
5 O'Clock somewhere
I Ain't As Good As I Once Was
Devil Went Down to Georgia (Red and Green)
On the Road Again (Green and Yellow)
Save a Horse, Ride a Cowboy
Redneck Woman
Standing Mamas Don't Your Babies Grow up to Be Cowboys
Over the Hill
Edit
When I'm 64
40th Birthday
50th Birthday (When I'm 64)
Over the Hill (Street Beater)
Get This Party Started (Green and Pink)
Birthday
Celebration (With or without hat)
Happy Birthday (Green, Blue, Pink, Purple)
God Bless the USA
Four Leaf Clover (With or without shamrock)
In Da Club (Inappropriat)
Christmas
Edit
It's Christmas Time
Jolly Saint Nicholas
Deck The Halls
Livin' la Vida Loca (Prototype)
Standing in Da Club
Love of Money (Green And Blue)
Military
Edit
Air Force
Army
Navy
Marines
America The Beautiful
Explicit Frogz
Edit
In Da Club
I Got High
Redneck Woman
There is a total of 86 Frogz, 10 unreleased. The Hip Hop line has the most Frogz, at 19.
Some Frogz have the same body shell as the Dancing Hamsters.
To this day, it is still unknown why Frogz were discontinued. Even Gemmy themselves doesn't know the reason.
The Cha Cha Slide and Rappers Delight Hip Hop Frogz were only sold at Target.