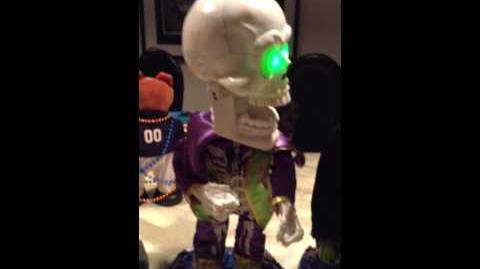 This Will Be About The 2001-2005 Big Head/Freaky Geek Release Of 13 Different Types.
Where Were They Sold?
Edit
Wallgreens,Wallmart,KMart And Other Stores Sold Them For About 19.99-30.00 Bucks. Now They Are Only Found In Thrift Stores,Ebay, And Other Nick Nack Stores And Flea Markets. There Pice Now Is About 25.00 - 130.00 Bucks.
What Do They Do?
Edit
Push Thier Button And They Sing To Thier Own Song Except The Bride That Sings Three Songs. The Big Heads And Freaky Geeks Are About The Same Thing Except The Freaky Geeks Had A Cardboard Platform Than A Box And The Freaky Geeks Have A Motion Sensor. They Discontinued Due To A Fact They Broke Very Easily And No One Willed To Make Them. They Are Pretty Cool But May Costs You Some Good Money. Most Of Them Were Halloween Except For The Two Santa Ones. Even Some Had Catch Phrases! They Also Are 18-20 Inches Tall!
List Of Them All!
Edit
Big Head Skeleton (Common)
Big Head Witch (Not That Common)
Big Head Wolfman (Not That Common)
Big Head Monster (Common)
Big Head Frankenstien (RARE)
Big Head Bride (RARE)
Freaky Geeks Skeleton Version 1 (Not That Common)
Freaky Geeks Skeleton Version 2 (RARE)
Freaky Geeks Witch (RARE)
Freaky Geeks Monster (Not That Common)
Freaky Geeks Monster Version 2 (RARE)
Big Heads Santa Workshop (RARE)
Big Heads Santa (RARE)
ZZTop Skeleton. (Unknown Big Head) (RARE)