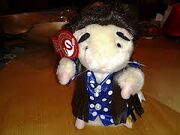 Greg Brady is a hamster made in 2002 and is part of the 
Dancing Hamsters
 collection. He is based on Greg Brady from the show "The Brady Bunch", as shown by his appearance. He says some of Greg Brady's phrases in a hamster voice and dances to the "Brady Bunch" theme song.
-This hamster is also a part of the "Brady Bunch" hamster series.
"These are my working threads, you know what I mean?"
"Adios, Johnny Bravo!"
"What am I going to do about my hair?"
"Groovy."
Ad blocker interference detected!
Wikia is a free-to-use site that makes money from advertising. We have a modified experience for viewers using ad blockers

Wikia is not accessible if you've made further modifications. Remove the custom ad blocker rule(s) and the page will load as expected.