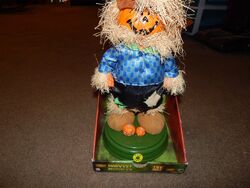 The Harvest Moon'er is an animated Halloween/Harvest decoration made in 2007. He has a pumpkin head and wears a brown hat, blue and white checkered button shirt, black pants with patches, and brown sack like shoes. He also has straw exopsed all over his body. When activated, he spins around, pulls his pants down, and shakes his booty (Represented by 2 smaller pumpkins) and says a few different phrases while the song "I Like To Move It" plays.
-Check out these pumpkins!
-I just love a full moon on Halloween!
-I got lots of junk in my trunk!
-Say hello to my little friends!
-I always got a little jiggle in my Halloween spirit
Ad blocker interference detected!
Wikia is a free-to-use site that makes money from advertising. We have a modified experience for viewers using ad blockers

Wikia is not accessible if you've made further modifications. Remove the custom ad blocker rule(s) and the page will load as expected.