NEW 2017 GEMMY PRODUCT!
The haunted infinity mirror is a Halloween decoration made in 2017. It gives the appearance of an ordinary classical wall mirror. When activated by button or motion sensor, the glass of the mirror reveals a vortex filled with small blue LED lights and the face of either a ghost girl or a reaper who's eyes light up and flash as moans and eerie music plays.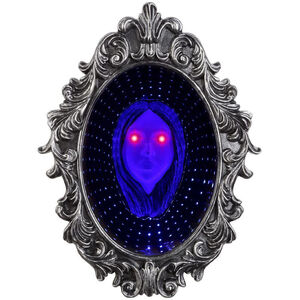 Where this item was sold
Edit
This item was sold at At Home, T.J. Maxx, Marshalls, and Lowe's as well as Lowe's Canada.
Different Versions
Edit
Donna Face (Blue)
Donna Face (Red)
Reaper Face/Spirit of Fire (Blue)
Reaper Face (Red)
This item uses the same soundtrack as the black gowned Donna the dead with severed head.
Ad blocker interference detected!
Wikia is a free-to-use site that makes money from advertising. We have a modified experience for viewers using ad blockers

Wikia is not accessible if you've made further modifications. Remove the custom ad blocker rule(s) and the page will load as expected.