The Haunted Infinity Mirror is a Halloween decoration made in 2017. It gives the appearance of an ordinary classical wall mirror. When activated by button or motion sensor, the glass of the mirror reveals a vortex filled with small blue LED lights and the face of either a ghost girl or a reaper who's eyes light up and flash as moans and eerie music plays.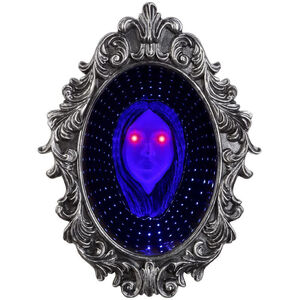 Where This item is Sold
Edit
This item is sold at At Home, Meijer, T.J. Maxx, Marshalls, and Lowe's as well as Lowe's Canada.
Different Versions
Edit
Donna Face (Blue) (Sold at At Home, Old Time Pottery, and Meijer)
Donna Face (Red) (Sold at Lowes)
Spirit of Fire (Blue) (Sold at TJ Maxx)
Reaper Face (Red) (sold at Michaels)
talking reaper face (red) (Unreleased)
skull and crossbones (blue) (Unreleased)
This item uses the same soundtrack as the black gowned Donna The Dead with severed head.