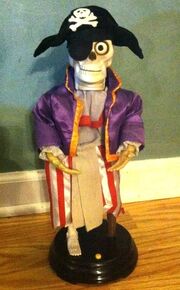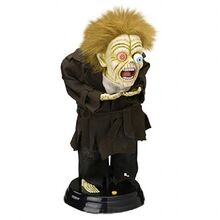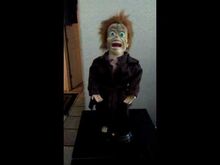 Were you looking for the earlier model of the Head Be-Holder, the Head in Hands Skeleton?
The Head Be-Holders are animated Halloween props made in 2004. They appear to drop their heads, catching it in their hands while swinging their hips and reciting head related puns. Aside from phrases, they occasionally sing songs as well.
Pirate Skeleton - A skeleton that wears a purple and gold jacket, white and red pants, a pirate hat, an eyepatch, a white and red shirt, and a beige cloth belt. He sings "Get Down Tonight."
Zombie - A zombie with light brown hair that wears a black jacket, black cloth belt, and black pants. He sings "Get Down Tonight." Instead of having a moving jaw, his head is synchronized with red LED lights that flash when he speaks.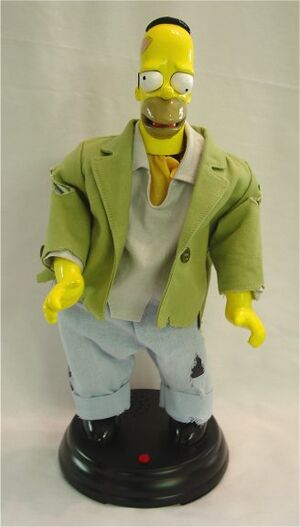 There is an unreleased Zombie Homer Simpson prototype of this series. He wears a white shirt, a tattered light green jacket, and light blue colored tattered jeans. According to an email from Gemmy Industries, it would have sang "Why Can't We Be Friends".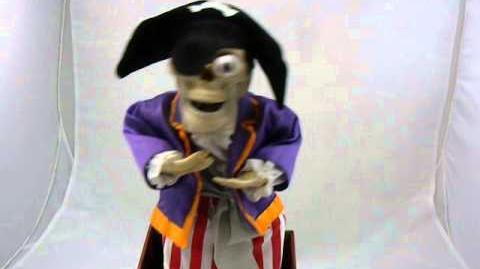 Ad blocker interference detected!
Wikia is a free-to-use site that makes money from advertising. We have a modified experience for viewers using ad blockers

Wikia is not accessible if you've made further modifications. Remove the custom ad blocker rule(s) and the page will load as expected.