The Henry VIII bust is an animated prop made in 1999. He gives the appearance of an actual bust of Henry VIII, which sits on a square base with a banner like nameplate with his name on it. When activated, the Henry VIII bust comes to life and moves his mouth as he sings "I'm Henry VIII I am".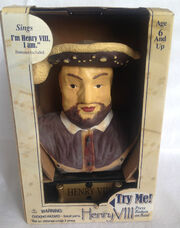 -This item appears to be quite similar to the Beethoven Bust.
-This item makes a slighty hard to notice appearance somewhere in the Gemmy Industries toy fair 2000 video on YouTube.
-He was sold at Spencer's Gifts.
Ad blocker interference detected!
Wikia is a free-to-use site that makes money from advertising. We have a modified experience for viewers using ad blockers

Wikia is not accessible if you've made further modifications. Remove the custom ad blocker rule(s) and the page will load as expected.