Hip swinging Snoopy is an animated Halloween decoaration made in 1998, and is based on the Peanuts character, "Snoopy". Snoopy wears a skeleton costume with an orange mask around his eyes. He swings his hips back and forth and moves his arms up and down to the Peanuts theme song "Linus and Lucy".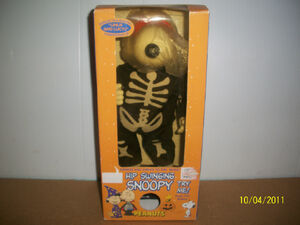 -There is a sitting version of this form of Snoopy that holds a crystal globe that lights up
-In the Gemmy toy fair 2000 video, you can see there is an unknown version of hip swinging Snoopy that appears to be dressed as a superhero (At least in terms of prediction)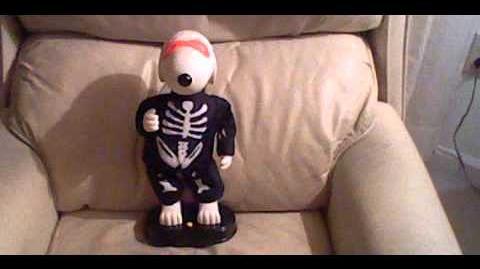 Ad blocker interference detected!
Wikia is a free-to-use site that makes money from advertising. We have a modified experience for viewers using ad blockers

Wikia is not accessible if you've made further modifications. Remove the custom ad blocker rule(s) and the page will load as expected.