The Holiday Hillbilly Trio is an animated Christmas tabletop decoration made in 2008. This trio features (From left to right) a penguin, reindeer and a polar bear. The penguin wears a red hat that reads "Bub" on it, and suspenders. He holds a jug that reads "X-mas" on it. The reindeer wears a straw hat and suspenders. He holds a washing rack that reads "Scratchy" on it. The polar bear wears a staw hat with a blue patch on it, a red banana with white polka dots on it, and suspenders with red patches on them. The characters move their heads side to side while singing a hillbilly version of "We wish you a merry Christmas" together and separately.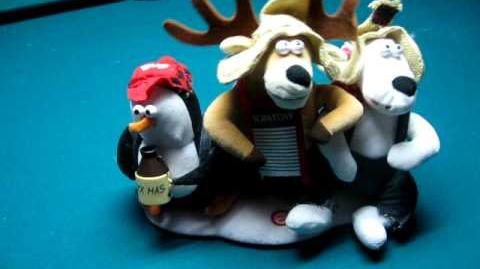 Ad blocker interference detected!
Wikia is a free-to-use site that makes money from advertising. We have a modified experience for viewers using ad blockers

Wikia is not accessible if you've made further modifications. Remove the custom ad blocker rule(s) and the page will load as expected.