The Holiday Tabletop Dancers is a collection of rare animated dancing Christmas characters made in 2005. They stand on a peppermint shaped base, and also hold 2 strings of Christmas lights in each hand. When activated, the character moves its head and arms and twists side to side (Like the the Groovin ghouls) while the peppermint base lights up and flashes in a disco-like fasion and the Christmas lights also flash as it sings a popular song.
List of Holiday Tabletop Dancers characters
Edit
| Character | Song |
| --- | --- |
| Santa Claus | "Get down on it" |
| Snowman | "Play that funky music" |
| Reindeer | "I like to move it" |
| Elf Reindeer | "Wrap it up" |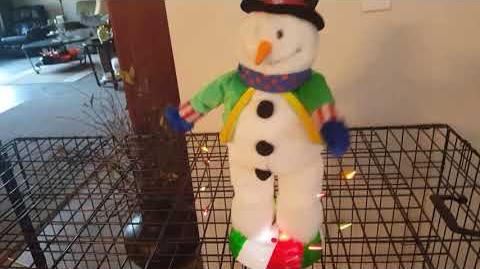 -The holiday tabletop dancers are very relevant to the Groovin' Ghouls, and may even be considered a Christmas replica to them as well.