The Holidazed Santa is an animated Christmas decoration made in 2003. Santa holds a string of colored Christmas lights and has a brown box that reads "Christmas lights" sitting in front of his feet. Santa moves his arms up and down as the Christmas lights glow while Santa sings his version of "The twelve days of Christmas".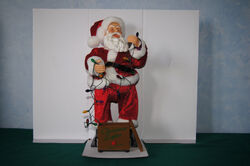 Ad blocker interference detected!
Wikia is a free-to-use site that makes money from advertising. We have a modified experience for viewers using ad blockers

Wikia is not accessible if you've made further modifications. Remove the custom ad blocker rule(s) and the page will load as expected.