The Irish Jig Leprechaun is an animated plush toy made in 2005. He is dressed in a green suit with matching top hat. He holds a pot of gold in his left hand, and a walking stick in his right hand. He moves his head and arms and spins his walking stick while he sings "Come on Eileen".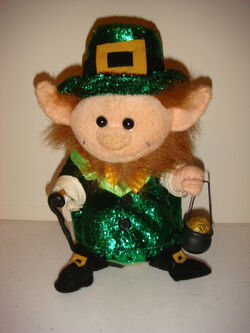 -This item is the human counterpart of a dancing hamster named "
Leprechaun
", which has the exact same movements and recording. The only difference is he was made in 2003.