The Life Size Jack Skellington is an animated Halloween decoration made in 2017. He is dressed in his signature black pinstriped suit and bat tie from the movie "The Nightmare Before Christmas". When activated, he moves his left arm, hand and fingers as his mouth moves and he says phrases from the movie.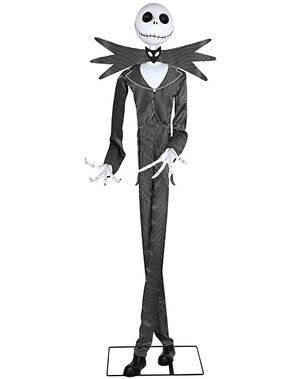 "Hmm…Hmm…There's got to be a logical way to explain this Christmas thing."
"Interesting reaction. But what does that mean?!"
"Ah! Halloween's finest trick-or-treaters! The job I have for you is top secret! It requires craft, cunning!"
"You're right! Something is missing. But what? I've got the beard, the coat, the boots."
""Ho Ho Ho! (Laughs)"
"Who's next on my list? Ah!"
"Come on, Zero! Christmas isn't over yet!"
"(Laughs)"
"Thank you. Thank you."
"It's great to be home! Merry Christmas!"
"Sandy Claus...in person. What a pleasure to meet you!"
"Mr. Claus, I'm afraid I made a terrible mess of your holiday."
This is the first licensed Gemmy life size since 2012 to be sold at Spirit Halloween
This is the first life size since the Freddy Krueger (Remake) from 2010 to move its fingers.
Ad blocker interference detected!
Wikia is a free-to-use site that makes money from advertising. We have a modified experience for viewers using ad blockers

Wikia is not accessible if you've made further modifications. Remove the custom ad blocker rule(s) and the page will load as expected.