Jow Blow is an animated novelty toy made in 2005. He has colored fur, plastic feet, plush hands and body, and semi-relistic eyes. He kicks his feet as he farts, talks, and sings "I ain't got nobody".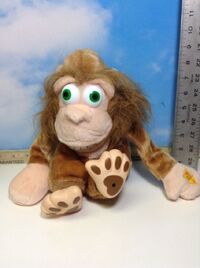 -Joe Blow's appearance looks similar to that of Bal Baboon, since he has the exact same details, execpt for the eyes and mouth.
-Joe Blow also plays the exact same monkey noises that Bal Baboon and the Swinging Monkey.
Ad blocker interference detected!
Wikia is a free-to-use site that makes money from advertising. We have a modified experience for viewers using ad blockers

Wikia is not accessible if you've made further modifications. Remove the custom ad blocker rule(s) and the page will load as expected.