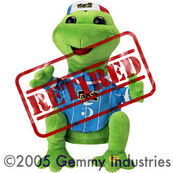 The Kriss Kross Frogz is an animated plush frog made in 2005. He weard a striped shirt and baseball cap. He wiggles his arms and moves his head up and down while singing "Jump".
*He is one of the Frogz characters that only came in green
*A rare shiny version was made, but only sold at Walmart.
Where this item was sold
Edit
He was sold at Walmart, Kohls, and Target.
Ad blocker interference detected!
Wikia is a free-to-use site that makes money from advertising. We have a modified experience for viewers using ad blockers

Wikia is not accessible if you've made further modifications. Remove the custom ad blocker rule(s) and the page will load as expected.