Leroy is a hamster made in 2003 and is part of the Dancing Hamsters collection. He is a black and white hamster who wears a white jacket, purple vest and hat, and yellow sunglasses. He moves his head and arms, swings his cane back and forth, and his tooth lights up while singing "Bad Bad Leroy Brown".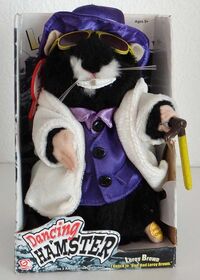 Ad blocker interference detected!
Wikia is a free-to-use site that makes money from advertising. We have a modified experience for viewers using ad blockers

Wikia is not accessible if you've made further modifications. Remove the custom ad blocker rule(s) and the page will load as expected.