The Dancing Pirate Skeleton is an animated Halloween prop made in 2006. He has long, black hair and wears a tan shirt with a black dickey, a grey vest, dark green pants, a white and red belt around his waist, and a brown pirate hat with a red bandanna. He turns his head, moves his mouth, swings his hips and arms, and his eyes light up red while he sings "Superfreak", "Sharp Dressed Man", "Slow Ride" and "La Grange".
He is very similar to the
Tuxedo Skeleton
made a few years before him.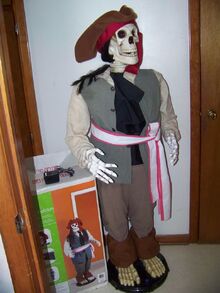 Ad blocker interference detected!
Wikia is a free-to-use site that makes money from advertising. We have a modified experience for viewers using ad blockers

Wikia is not accessible if you've made further modifications. Remove the custom ad blocker rule(s) and the page will load as expected.