The Dancing Tuxedo Skeleton is an animated Halloween life sized prop made in 2004 and 2005. He wears a black tuxedo with a hat. There are either silver or tiger stripe trimmings on the suit and hat, depending on the version. He turns his head, moves his mouth, swings his hips and arms, and his eyes light up red while he sings "Superfreak", "Evil Ways", "Born to Be Wild", and "Shake Your Groove Thing". He comes with a microphone that you can use to make him say or sing whatever you want. He also has an MP3 port in which you can plug in an audio source. He will move his mouth and head to the music.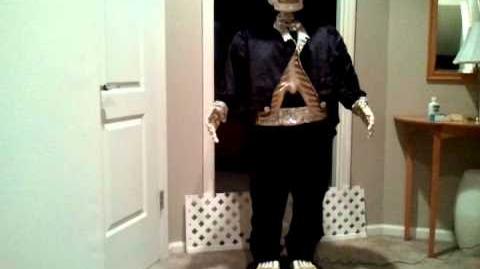 Ad blocker interference detected!
Wikia is a free-to-use site that makes money from advertising. We have a modified experience for viewers using ad blockers

Wikia is not accessible if you've made further modifications. Remove the custom ad blocker rule(s) and the page will load as expected.