The Life Size Grinch is an animated Christmas prop made in 2004. He wears a Santa Claus suit with a black belt and red elf shoes. The grinch swings his hips, moves his arms and turns his head as he speaks phrases from the movie and sings "You're a mean one Mr.Grinch".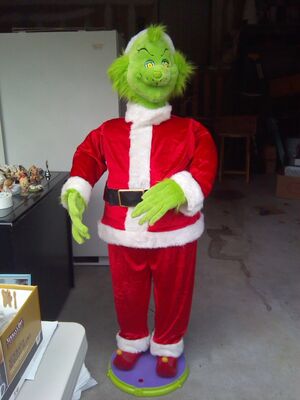 -The base model used for this item resembles that of the handstanding Grinch and Wontubulous hip swinging grinch.
-This life size figure does NOT have a moving mouth.
Ad blocker interference detected!
Wikia is a free-to-use site that makes money from advertising. We have a modified experience for viewers using ad blockers

Wikia is not accessible if you've made further modifications. Remove the custom ad blocker rule(s) and the page will load as expected.