The lifesize Evil Witch is an animated Halloween prop made in 2018. She is dressed in a black dress with grey fabric, a black hat and holds a broom. When activated, her body sways. her eyes light up and her mouth moves as she says various phrases.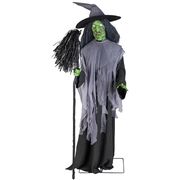 "So, you want some treats? Ahhhhh ha ha ha!'
"Is THAT a mask ? Woo hoo !"
"(Laughs) Let me show you the true face of Halloween! (Laughs)"
"Trick or treat! (Laughs)"
"How about a kiss? (Laughs)"
This is the first lifesize witch since 2012 to use the classic Gemmy witch face