The lifesize Hannibal Lecter is a very rare lifesize made in 2008. 
Description
Edit
He's wearing a straight Jacket and a mask. When activated via push button, motion, and sound, Hannibal turns side to side, his eyes move, and his mask drops while he says phrases and makes his signature slurping noise.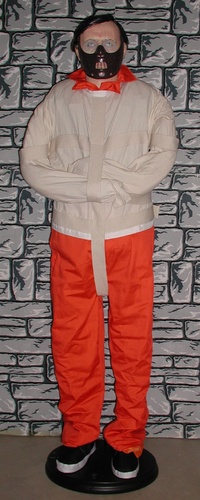 "A census taker once tried to test me. I ate his liver with some fava beans and a nice Chianti."
"I do wish we could chat longer, but... i'm having an old friend for dinner."
"I have a few conditions of my own."
"You still wake up sometimes, don't you? Wake up in the dark, and hear the screaming of the lambs."
"I know now that they will never ever let me out while I'm still alive. Closer please. Closer !"
"Well hello Clarice"
"Quid Pro Quo I tell you things you tell me things"
"Just one more thing, love your suit "
Ad blocker interference detected!
Wikia is a free-to-use site that makes money from advertising. We have a modified experience for viewers using ad blockers

Wikia is not accessible if you've made further modifications. Remove the custom ad blocker rule(s) and the page will load as expected.