Michael Myers is a rare life size made between 2009-2010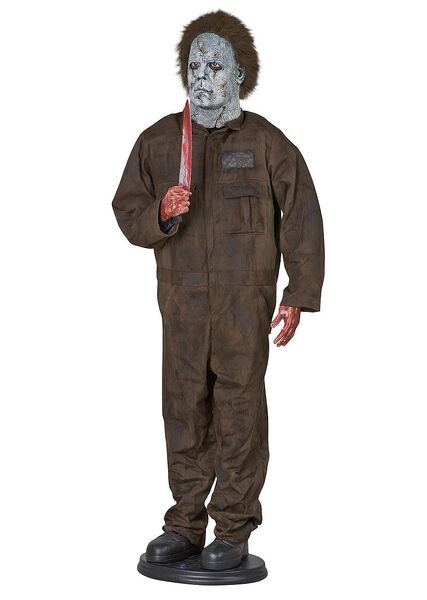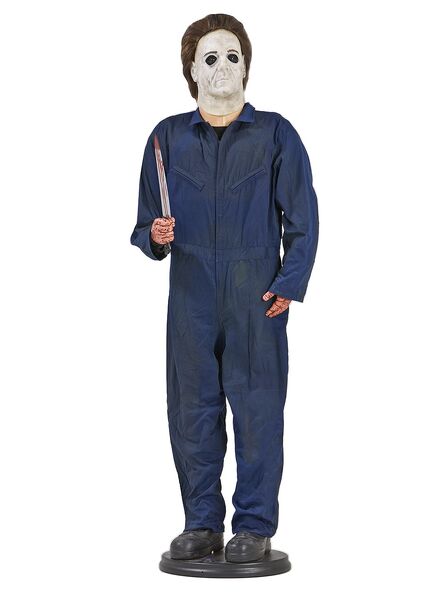 Description
Edit
Rob Zombie variation [2009]- He is wearing a grey cracked mask and a brown prison jumpsuit. He is also holding a bloody knife.
H2O variation [2010]- He is wearing a White mask with black pupils, and is wearing a blue prison jumpsuit. He is also holding a bloody knife.
Prototype H20 variation [2010]- Looks identical to the released H20 variation, however he has realistic eyes instead of pitch black ones.
Prototype Rob Zombie variation [Unknown]- Almost Complete difference from released version. He has the same blue prison jumpsuit as the H20 version, and the same mask mold; however the mask is painted rough gray rather than being white. It also appears to lack the deep cracks that the released version has. The eyes were supposed to light up red and were realistic.
Prototype 3ft variation-a 3ft tall version of the H20 Michael Myers. His head is the same size as his lifesize counterpart, making his head larger than the body and appearing like a giant bobblehead. Turns his head back and forth and twists at the waist.
Both the released versions perform the same animation. When activated via push button, motion sensor, or sound, he will turn his head, move his eyes, turn side to side, and raise his knife up, while he breathes and the Halloween theme plays.