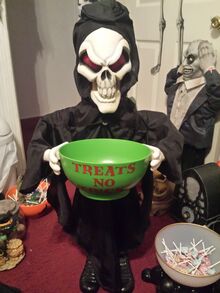 Monster Munchies are a series of Halloween characters made in 2007-2009. Each character holds a black and orange candy bowl (there are color variants) that can be filled with candy. When activated, they say phrases as their eyes light up (some characters eyes even move). In 2017, a mummy version was made.
Characters
Edit
Skeleton
Grim reaper
Donna The Dead (With shoes or bare feet)
Dr. Shivers
Butler (With red or gray vest)
Fat butler (With red or white eyes)
Zombie
Pumpkin kid (2 versions, Cracker Barrel exclusives)
Frankenstein (Target exclusive)
Witch (Target exclusive)
Vampire w/ big red eyes
Vampire (Target exclusive)
Mummy (2017)
-The Butler, Scarecrow, regular Vampire, Skeleton and the 2017 Mummy are the only Monster Munchies with moving eyes
-These are sometimes referred to as Treater Greeters however those are a different item.
-The Witch, White Vampire and Frankenstein were Target exclusives.
- The Grim Reaper's candy bowl is very different from the others, due to the fact that it not some variant of the striped bowl. It is instead solid green with the words "Treats no Tricks" written on the front in red lettering.
- After 10 years in 2017, Gemmy finally added another character to the line, a mummy.