The Mystic wheel of misfortune is an animated Halloween decoration made in 2016. It features a skull on the base with a wheel that has and eyeball in the center and many creepy fortunes on it. When activated, the wheel rotates as the eye and base light and the skull reads the fortune the wheel lands on.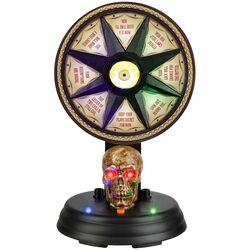 -This item has the same lighted base model as the Grave ravers.
Ad blocker interference detected!
Wikia is a free-to-use site that makes money from advertising. We have a modified experience for viewers using ad blockers

Wikia is not accessible if you've made further modifications. Remove the custom ad blocker rule(s) and the page will load as expected.