Nick the Neck Stretching Zombie is a extremely rare Halloween prop made in 2008.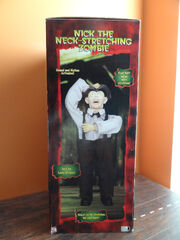 Description
Edit
Nick is wearing a white shirt, black bowtie, and brown overalls.
When activated via push button, motion, or sound, Nick's eyes light up, and he pulls up his neck has he say many phrases.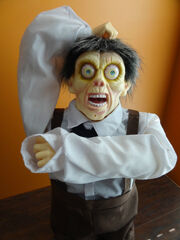 -The vampires all love me, wanna see why? (Pulls neck and laughs)
-Wow, is my neck sore, hold on! (Pulls neck) Got it!
-I would forget my own head (Pulls neck) If it wasn't attached (laughs)
-It's Halloween if you didn't know, just thought I would give you a (Pulls neck) Heads up
-You know, I've always wanted to be taller, wait (Pulls neck) much better (laughs)
-He was sold at Michaels in 2008.
-He is 2 feet 5in tall, but after he pulls up his neck, he's 3 feet tall.