The Over The Hill frogz is part of the Frogz collection made in 2007. He wears a black shirt that reads "Over the hill" on it and has a colorful party hat. He holds a walker in his hands and wears eyeglasses. He moves his head, arms and mouth while singing "When I'm 64".
There are two versions of this frog. This one of course, and then a 50th birthday one.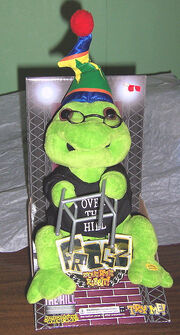 -It is Based on a Dancing hamster Over The Hill that sings They Say It's Your Birthday.
-It also has the same mouth movement as Rappers Delight, On the Road Again, It's 5 O Clock somewhere, Happy Birthday, No Scrubs, Devil Went down to Georgia, and As Good As I Once was.
-This is the one of the four "over the hill" frogz in the series.
Ad blocker interference detected!
Wikia is a free-to-use site that makes money from advertising. We have a modified experience for viewers using ad blockers

Wikia is not accessible if you've made further modifications. Remove the custom ad blocker rule(s) and the page will load as expected.