Polly the repeat parrot puppet is a recordable plush toy made in 1997. She has a colorful furry body with red, blue, and yellow. When you press the button on Polly's foot, you speak to her and she'll repeat what you say back to you. Polly can be controlled by you! Simply insert your hand into the puppet and you can move Polly's mouth to your message.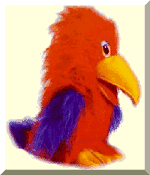 Ad blocker interference detected!
Wikia is a free-to-use site that makes money from advertising. We have a modified experience for viewers using ad blockers

Wikia is not accessible if you've made further modifications. Remove the custom ad blocker rule(s) and the page will load as expected.