The pop culture series is a series of animated figures on popular entertainers made in 2001-2004. Each one moves its head, hips and/or arms while singing a classic song or performing a classic comedy routine. There is a Barack Obama figure made in 2008 that is similar to the 2004 mini figures, but it is NOT in the pop culture series.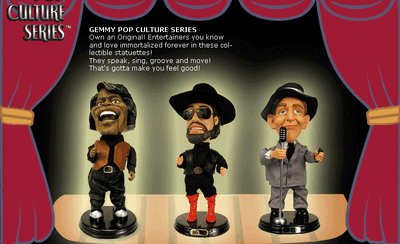 People in the series
Frank Sinatra (Prototype)
Gallery
Ad blocker interference detected!
Wikia is a free-to-use site that makes money from advertising. We have a modified experience for viewers using ad blockers

Wikia is not accessible if you've made further modifications. Remove the custom ad blocker rule(s) and the page will load as expected.