The rapping Homer Simpson was made in 2002 and is based on the cartoon character "Homer Simpson". He wears
a dark blue shirt and a bling. He moves his head and arms as he sings "Rapper's Delight". Homer also says 6 phrases which are:
-"English. Who needs that? I'm never going to England".
-"Feeling stupid? I know I am"
-"D'oh!"
-"Nuts. Is there anything they can't do?"
-"C'mon TV, gimmie some of that sweet, sweet pep"
-WOOHOO!!!"
-The bling neckalace Homer is wearing has his anitinals on it which are "HS"
-He actually has the same or simalar robotics to the dancing hamsters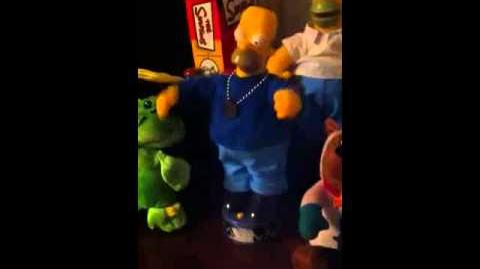 Ad blocker interference detected!
Wikia is a free-to-use site that makes money from advertising. We have a modified experience for viewers using ad blockers

Wikia is not accessible if you've made further modifications. Remove the custom ad blocker rule(s) and the page will load as expected.