Sam the Snowman is a very rare prop made in 2008.
Description
Edit
When activated, Sam turns his head and his cheeks light up light blue as he says phrases from the TV Special and sings "A Holly Jolly Christmas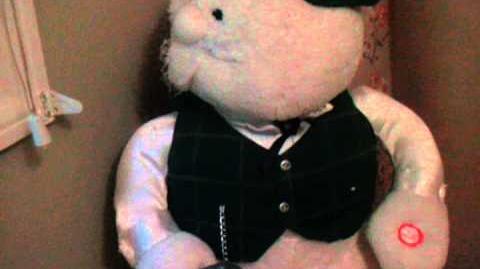 -Oh, excuse me. Call me Sam. What's the matter? Haven't you ever seen a talking snowman before?
-Nothing like that year with the big snowstorm, brrrr! I don't know what we would have done without Rudolph to pull us through. Could it be that some of you aren't acquainted with the story of Rudolph? Well pull up an iceblock and lend an ear.
-Well, let me tell you about Rudolph. It all started a couple of years before the big storm. It was Springtime, and Santa's lead reindeer Donner had just become a proud papa.
-Soon, it's right before Christmas. And everybody is getting ready for that big sleigh ride on the night of the 24th, Christmas Eve.
Ad blocker interference detected!
Wikia is a free-to-use site that makes money from advertising. We have a modified experience for viewers using ad blockers

Wikia is not accessible if you've made further modifications. Remove the custom ad blocker rule(s) and the page will load as expected.