The Santa Claus greeter is an animated Christmas decoration made in 1998. He sings 2 Christmas songs which are "Jingle bells" and "Deck the halls". His mouth moves in sync with his voice to make it look like he's actually singing. He can either be activated by squeezing the white cotton ball on the end of his hat or set him to sensor to make him sing to anyone who passes by him or walks up to him.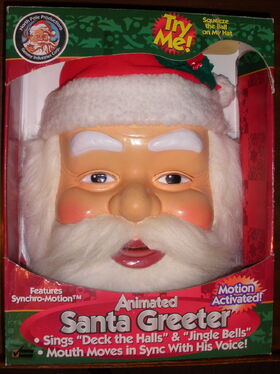 Ad blocker interference detected!
Wikia is a free-to-use site that makes money from advertising. We have a modified experience for viewers using ad blockers

Wikia is not accessible if you've made further modifications. Remove the custom ad blocker rule(s) and the page will load as expected.