The Scooby Doo talking nightlight is an animated figure made in 2002. Scooby holds a lantern in his hand and stands on a grey brick base with a sign that reads "Mystery Lane" on it. When the button on the front of the base is pressed, Scooby moves his head and mouth and he says many different Scooby-isms as the song "The boy from New York city" plays. When the button beside scooby is pressed, the lantern lights up until the button is pressed again.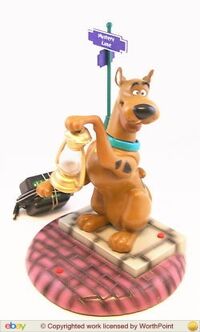 Ad blocker interference detected!
Wikia is a free-to-use site that makes money from advertising. We have a modified experience for viewers using ad blockers

Wikia is not accessible if you've made further modifications. Remove the custom ad blocker rule(s) and the page will load as expected.