Shock me Sherlock is an animated Halloween decoration made in 2001. He's a Skeleton sitting in an electric chair. The Helmet lights up blue and he convulses back and forth as he moves his mouth and talks. Each press of the button will create a "stronger" charge and a different phrase, until Sherlock admits defeat.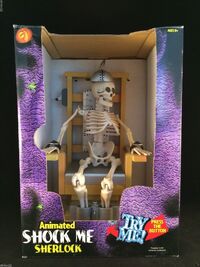 -This item is an earlier version of Joltin' Jack.
-Unlike Joltin' Jack, the chair he sits is TAN not black.
-The switch is located on the upper part of the chair and is NOT the activation switch.
-The Button to activate Shock me Sherlock is located on the lock between his legs.
-Shock me Sherlock has more phrases than Joltin' Jack .
Ad blocker interference detected!
Wikia is a free-to-use site that makes money from advertising. We have a modified experience for viewers using ad blockers

Wikia is not accessible if you've made further modifications. Remove the custom ad blocker rule(s) and the page will load as expected.